INTRODUCTION
Double Membrane Gas Holder (DMGH) is a durable air supported structure that is specifically designed for biogas storage. The gas holders are typically installed as part of the anaerobic digestion system in municipal wastewater treatment plants and industrial wastewater treatment plants. Besides, gas folders are also installed in the agricultural systems, landfill sites with biogas usage or biogas power generation plants.
Double Membrane Biogas Storage | DMGS
The double membrane gas holder consists of an outer membrane and of an inner and a floor membrane forming the actual gas space. A permanently running support air blower supplies air into the space between the inner and outer membranes, and keeps the gas pressure at a constant level regardless of gas supply and withdrawal.
In the standard configuration, a specially designed blower with a flat characteristic pressure curve combines high operational safety with Maximum profitability. The operating pressure in the double Membrane gas holder thus remains constant, regardless of the amount of gas taken in or flowing out.
The supporting air helps to hold the shape of the outer membrane. This enables the gas holder to withstand external loads, such as wind or snow. At the same time, the inner Membrane is also under slight pressure. This "operating pressure" serves to recirculate the Biogas stored in the plant.
The gas charge and discharge pipes are cast into the concrete foundations that are usually supplied by the customer. All three membranes are then clamped to the foundation by means of an anchor ring. The safety valve prevents the gas holder from over-pressure on the gas-side. To maintain a constant pressure within the gas holder, a pressure control valve is mounted on the air-side. Filling levels are measured by means of ultrasonic and wire length measurement systems. System safety, reliability and control simplicity is the main priority in product design and manufacturing principles.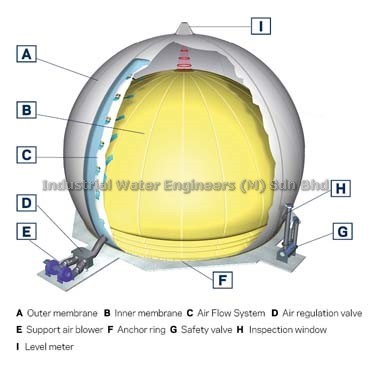 Main Criteria For The Selection Of Biogas Storage Tanks
Volume
Pressure
External loads
Tank diameter
Agitator technology
Costs
Features & Advantages
Lower Investment and maintenance costs
Easy Maintenance
Quick Installation within a few days on an existing foundation
Very high operating pressures
Large volumes
Suitable for highest snow and wind loads
Permanently gas-tight
High operational reliability
Exact level metering